Rob Burton fits this bill, I think, because he has had such a varied life and I thought that his story might be interesting for those of you who want to know more about working in China... If you are interested in seeing more of Rob's writing, check out his
website
and his
YouTube channel
.
Jo Gakonga
Rob's story- teaching ESL in China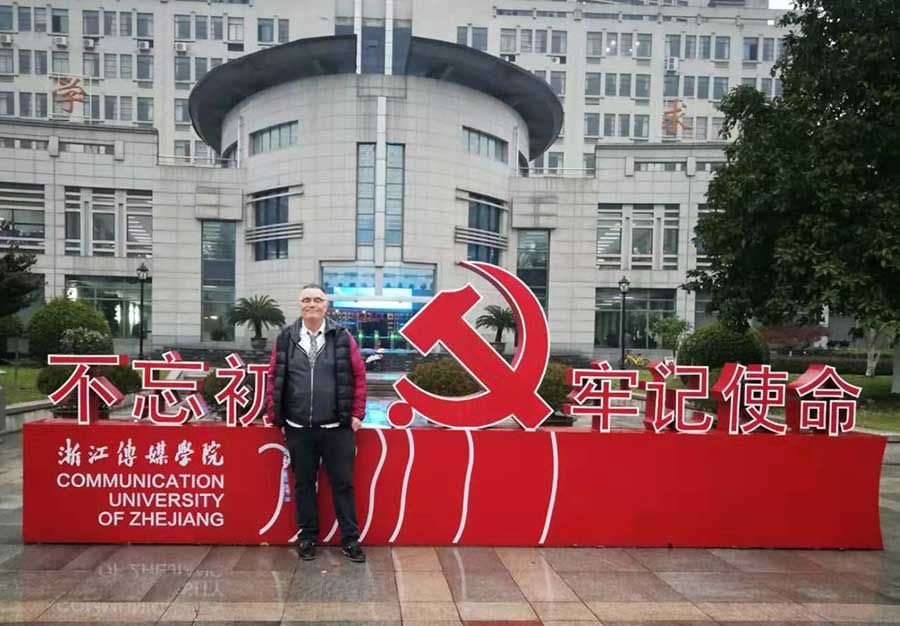 I became an ESL teacher at a late stage in my life. I didn't go to university until my 30's and completed my PhD at 48. I arrived in China in 2011 aged 57 just scraping in under the age 60 foreign teachers ceiling. I'm still here, teaching aged 67, this is how it happened.

Once out of a craft engineering apprenticeship and a skilled man in my 20's I travelled - 18 months in Southern Africa, then living and working in the Netherlands. Then, as an undergraduate, I had always cast an eye over the "Come teach in China" adverts in the broadsheets feeling the pull of more adventure. Later, I had a family to consider and after the PhD I was busy lecturing. But, I got divorced, then moved into university admin as I had one eye on the pension horizon. Eventually, they got bored of me so we agreed on voluntary redundancy––this focuses one's mind. I knew it would be hard to find another academic job and I'd end up stacking shelves in a supermarket and eventually checking out feet up watching Wheeler Dealers. That wasn't for me, so I planned my escape. I did an online TEFL course at work¬, posted my CV online, and the offers came rolling in. I chose an agency who placed me with a Nanjing high school. I was torn between choosing that and a school in Inner Mongolia (where my inner adventurer really wanted to go) but I decided on the urban school to better learn the ESL teaching ropes.

Of course, this didn't work out. One week before leaving the UK, the agency told me the school didn't want me, and they had placed me at a college, and in fact, the accommodation was much better, they said. But on arrival I found it covered in black mould. Welcome to China. That set the tone for the next five months. The college ran a Canadian university scheme that didn't seem to care whether or not the students learnt English in order for them to enter the Canadian home institution. My English class was "optional" not mandatory. This was crushing for my morale as I had actually come to China to teach. A road traffic accident also knocked my confidence. This, along with the poor teaching situation, broke me. After a short 10-day holiday in Thailand during the spring break, I gave up. On returning to China, I booked a ticket home.

I spent a year doing part-time jobs for two London universities which meant travelling and nothing destroys one's motivation like four-hours on a stinking Magic Bus but I had kept in touch with a British buddy in Nanjing who suggested I applied to a school there. I got the job, and at 59 I scraped in under the wire. I spent six happy years mainly teaching IELTS English. My Chinese agency, said my work permit was allowed because of the PhD, I didn't question this. I was happy on the decent salary I was getting, so decent I became debt free in the UK.

In January 2018 I was called to my employer's office. I had an ongoing issue with our apartment and I thought it would be sorted out. What happened totally blindsided me. They told me I was illegal as they had been getting my documents via a process called "guanxi" (a Chinese system of social networks and influential relationships which facilitate business and other dealings). Earlier, 51 South African teachers had been caught teaching on student visas, some were employed by the agency, and the police were auditing them. In a back-handed way they did me a favour in sacking me. My expat colleagues at the same school were arrested and taken for questioning. ButI was now out of work, and homeless.

After six months I found a new position. My age was the biggest problem. I would remind recruiters of this and the doors would be slammed shut. There was "part-time" work, but this was illegal, so I turned it down. The Nanjing police were actively hunting down illegal teachers. A university in Hangzhou was not so short-sighted and they were happy to have me as I was the expert they needed to teach on their bi-lingual broadcasting courses.

The PhD is my trump card, but during the previous six years I had published three IELTS books. These were also useful in getting my work permit to teach over the age 60 ceiling and I have been teaching at the university for two years now. Hangzhou was described by Marco Polo as "Heaven on Earth." And you know what? It still is.