One of the things that has kept me happy in ELT for over 30 years is the wonderful teachers I've worked with. People often come to English language teaching from a wide range of backgrounds and find all sorts of ELT niches to work in. In this occasional series, I want to introduce you to some ELT teachers with inspirational stories. I hope that you enjoy meeting them and that maybe they give you some ideas for the different paths that are out there in our industry.
Jo Gakonga
Evelyne's story- you're never too old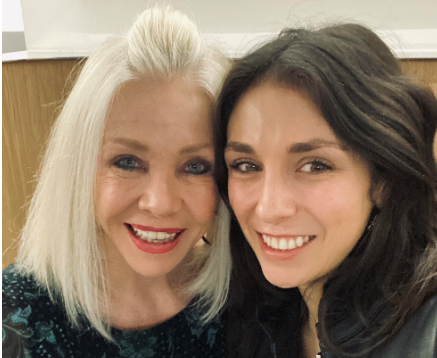 This is a recent photo with my darling daughter Ashley who also enjoys travelling just like her old mum!

Do you know that I'm 68 years old, born and bred in Zimbabwe, had a career for 30 years as cabin crew travelling the world with Air France discovering new exciting cultures and places, learning new languages and meeting some extraordinary people. Then I retired to start teaching Aeronautical English to local French-speaking students just 13 years ago here in Paris.

The aviation industry has been hard hit by COVID19 and so I lost my last passionate extra job teaching amazingly gifted young flight attendants. I am now doing the Business English Course online with OXFORD tefl Barcelona Spain (where I passed my CELTA online in August 2020, challenging but an amazing experience) and will not give up the goal to teach again.

I was immediately offered a job at a technical university in my home Paris region. You see, I have also studied Technical English for plane mechanics and flight dispatchers as well as ICAO Aviation English for pilots and air traffic controllers (but still need to get my official Certification as a Trainer and Rater with Latitude in Plymouth) and I was enthusiastically rearing up to go until they realized my age and I needed to be under 66! My dreams to continue were shattered.

I was sickened and so disappointed by the news because I knew that with my experience, I could have helped those budding technical students move forward. I love working with the younger generation - they are so interesting and just overflowing with vitality and the will to learn.

Anyway, as you must understand, I am now too "old" to work with the national university institutions in France which is terribly frustrating considering the scarcity of technical English teachers in the country. I still firmly persist in believing that age is only a number! But I was sad especially for the youngsters who would be missing the specialized training module in their program due to no fault of their own.

However, outside of all the red tape, I shall not be beaten (my dearest mom worked till she was 80 and we still went on to celebrate nearly her hundredth birthday) and I plan to keep on learning and plodding ahead, thanks also to your great courses. I sincerely hope that one day I shall be able and permitted to continue helping others in achieving their goals.